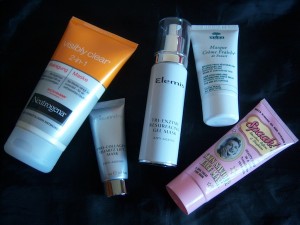 With so many masks on the market, most women don't know which type of mask to buy, especially if they have misdiagnosed their skin type. As a beauty consultant, masks were always the hardest thing to sell, because people never made time to use them or didn't feel they were necessary. In fact face masks are a great way to keep the skin healthy and gives the skin a cleansing and moisturizing boost each week. There are different types of masks, and using the correct one is as important as how long you keep it on. Leave it on too long and it may cause a reaction, rinse it off too soon and you lose the benefits. Always cleanse and exfoliate before you use a mask, otherwise you will be applying the mask on a layer of dead skin cells, and the result will be less effective. Here is a basic guide to most masks, but always read the instructions, and keep an eye on how long you leave it on for.
Gel Masks
These can come as an all in one sheet mask or one that you apply, leave on and then rinse off. Generally these are good for dull skins that need a boost; most will refresh, cool and hydrate the skin, and are suitable for all skin types. This type of mask isn't as active as others and is safe for even sensitive skins, and you can use it whilst you soak in the bath tub. Elemis and Clarins have wide ranges of masks that caters for all skin types, that are effective and gentle.
* Note: some active masks with fruit acids are gel based too, so check before you use.
Clay based Masks
If you have oily or combination skin (only use on the t-zone) these are the best masks to use, but only in a dry atmosphere (not in the bath or shower). You need to allow the mask to dry hard to ensure that it pulls out the excess sebum in the skin. Once the mask is completely dry, you should rinse it off and rehydrate the skin with a balancing lotion and a small amount of moisturizer. This can be an active mask and could stimulate the skin, by encouraging the sebum to come to the surface, and you may notice more spots after using the mask. It doesn't give you spots, as the spot was already forming and the mask pushes all the sebum to the surface, creating spots in one go. Don't use this if you have an important event or function to attend the next day, but use it a week before to allow the skin to settle.
Peel-Off Mask
Similar to the gel mask, this mask is more a quick fix mask that can help to hydrate the skin. These can get a little messy as small parts can remain on the neck, around the nose, on the hairline, or on the eyebrows, so it's best not to use this before you go out. When you remove the mask, work up and across the face. Start at the chin area and gently roll and pull the mask up and off the face. Use a cotton pad with warm water to go around the hairline, chin area and neck to ensure all traces of the mask are removed. This is a mask for all skin types, and is safe to use as often as you like.
Moisture Rinse off Mask
This is my favorite type of mask as it's relaxing and you use it in the bath. Most are creamy ones that are hydrating and boost the moisture levels in the skin. You only need a small amount and you'll find different parts of the face will absorb the mask more readily, in particular the cheeks. The more dehydrated the skin, the faster it will work, and in cases of extreme dryness, use a few times a week to help heal the skin. These masks are suitable for all skin types, but dry and dehydrated skins will benefit more. Nuxe do a range of rinse off masks which are very hydrating, and The Body Shop has several ranges that have moisture masks. The Vitamin E mask is a classic product, and a jar usually lasts 6 months.

Always follow the directions on the mask and avoid the eye area. Some masks may have active ingredients and shouldn't be left on too long, and some peel off masks may have clay in them making them suitable for oily skins, so there are no hard rules when using face masks. If it feels uncomfortable rinse it off straight away as you maybe having a reaction. Masks are targeted skin treatments and should only be used a couple of times a week. The exception is the all in one cleaner and mask, which is gentle enough to use daily.
Beauty Super Spy Tips
Try to use a mask once a week if your skin is dehydrated or dry as the moisture boost will help regenerate the skin renewal cycle. If you don't find you have time, apply it while you wash your hair, and then rinse afterwards.
Exfoliate before you use a mask; it helps if you are in the bath as the steam with open the pores and allow the mask to absorb more rapidly.
Don't leave a mask on overnight—besides being messy, it could over stimulate the skin.
Use different masks according to the season and how your skin feels; for example gel ones during summer and moisture masks during winter.