With so many beauty boxes around these days, the bar has become higher—especially for curated collections. The brands selected for the Red Skincare Edit are good and safe choices for those seeking a new skincare regimen, however, it fails in a couple of areas in my opinion;
The small sizes of the products (four full sized travel items which includes the sponge and a small tube of Sudocrem).
There was no SPF product which is essential for protecting the skin these days.
No mask or exfoliator was included, again products you would expect to find in a skincare box.
Priced at £35 for 11 items, this is still good value if there are premium brands you wish to try, and haven't had the opportunity to do so. I always warn others not to get hung up on what a box of products is potentially worth, as they are only of value if you can and will use them. Here is a breakdown of what is in the box, and my verdicts:
OM Skincare Cleanse and Glow Konjac Sponge ~ Full size @£12.00. I'm not a fan of konjac sponges, basically because they don't last very long, and  are best used with a cleanser. A nice product to try, but expensive to use long term with limited benefits if you have normal skin as all it does is gently exfoliate the skin on a daily basis, which a good skincare routine does already.
Sudocrem ~ Full sized (travel) size 30 g tube @£2.09. A useful multipurpose cream that can be used by everyone on sunburn, and dry patches.
Elizabeth Arden Advanced Ceramide Capsules Daily Youth Restoring Serum ~ (Sample of 7 capsules worth about £9). Great for traveling or if your skin needs an occasional boost, however, this is a sample that can be easily sought from a beauty counter and is labeled as such. I personally find capsules can be less cost effective, because some days you use less serum and once opened you have to use up the contents.
Weleda Skin Food ~ Full sized (travel) size 10 ml @£2.25. A classic multipurpose product for dry skin. A very tiny travel size is included in this box, even though the 30 ml size would have been more apt for this edit to try the product.
Dr. Lipp Original Nipple Balm ~ Full size @£12. Another multipurpose product that can be used on the lips alone or over lipstick, or on dry skin and cuticles.
Aromatherapy Associates Facial Oil ~ Sample 3 ml size (worth about £9). Facial oils are intensive treatments for dehydrated skin, which I prefer to use at night only, and this one is recommended to be used after a serum and before a moisturizer. Personally I don't like to overload the skin too much, and would use it instead of a moisturizer at night or it may overstimulate the skin (and can lead to spots!).
Institut Esthederm Eau Cellulaire Cellular Water Spray ~ Sample 30 ml (worth about £4.80). A handy spray for the face, which can be used as a toner. However, when I tried it, it still left my face a little tight in places.
Embryolisse Lait Creme Concentre ~ Sample 5 ml (worth around £2.15). A multipurpose cult product that can be used as a moisturizer and a cleanser. It would have been nice to have a more generous size to try on this product.
Origins Plantscription Anti-Aging Power Serum ~ Travel size 15 ml (worth £25). This is a wonderful and quick working product that leaves the skin smooth with a sheen, and locks in moisture. Without a doubt my favorite item in the box.
Elemis Pro-Collagen Cleansing Balm ~ Travel size 20g (worth about £7.60). I've used Elemis over the years and never really liked their cleansers, but this is an easy to use and hardworking cleanser. The balm has a soft texture that instantly dissolves on the skin, and rinses off without any residue.
MÁDARA Time Miracle Total Renewal Night Cream ~ Travel size 20 ml @£20. A vegan facial cream that is formulated with Northern Birch juice that smells slightly earthy, but works without feeling heavy or greasy.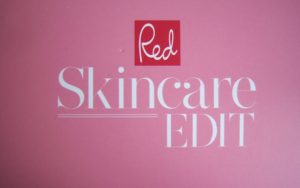 Rating and Verdict
4/5
[yasr_overall_rating]
The perceived value of the box I calculate at around £106, and is one of the better curations I have seen that is affordable, with products that are suitable for nearly everyone.
I would have liked to have seen a product with an SPF included, and an exfoliator at least rather than four multipurpose products. I do realize for the purposes of marketing (and collaborations with offers) that isn't always possible, but it would have made for a more rounded edit, especially if someone was looking for a complete skincare routine to try out.
On the value side, the items that make the box worthwhile are the Origins and Elemis items, as they are generous sizes and products where you can see results almost immediately. The box also comes with some discounts for the brands included, although I would say some aren't that enticing (some are with specific retailers and others have a high minimum spend). A good buy that suits all ages and skin types, with a number of classic skin care hero products that everyone will find a use for.
You can buy the box through Latest in Beauty priced at £35 while stocks last.
Save