I've been a fan of L'Occitane En Provence for many years, and visiting their shops is always fun, as they have beautiful displays and there's something for everyone (and I try all the hand creams!). I was intrigued to sample the Overnight Reset Serum, because let's face it, who doesn't want an overnight beauty lift?
One of the things I love about this brand is that they aren't overhyped and the consultants in store are friendly and will happily give advice and give you a sample if they have them. Most people know the brand for their luxurious body products and famous hand creams, my own personal favorite being the Shea Butter. They also are famed for their artistic advent calendars, and cosmetic pouches of which  I have a small collection that are just too nice to use in case they get spillages or stains on them.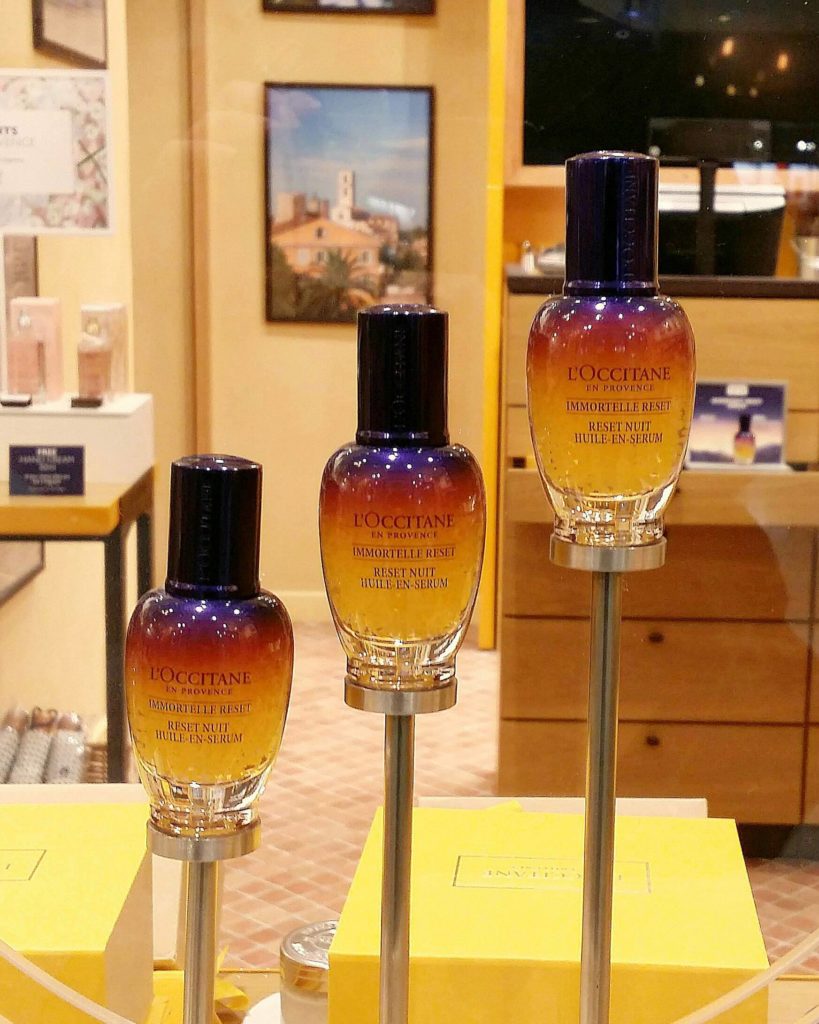 Their skincare ranges have recently been updated and the latest product, the Overnight Reset Serum (part of the Immortelle range) can be used alongside the other skincare ranges; Divine, Precious, Aqua Réotier, and Shea Butter. I've tried all of them, and they are a little bit of luxury each day.
Rating and verdict
4.8/5
[yasr_overall_rating]
The serum is in a beautiful bottle, and contains gold bubbles which releases Immortelle Oil Extracts (which boosts collagen production), and is as you expect concentrated so you don't need much. It smooths over the face easily and absorbs quickly to leave a smooth film on the skin. The idea is to 'reset' the skin each night and is best applied after a toner, but before any facial oils and moisturizers. The product contains Marjoram, known for it's antioxidant and anti-inflammatory properties, which  helps combat sensitive skins that arise from pollution, and Acmella Oleacera, which helps relax the face muscles which reduces the appearance of fine lines on the face.
I tried this first without a moisturizer to see how the skin would feel overnight, and it still felt smooth and soft the next morning. I then tried it with a moisturizer and there was only a slight difference. The serum is hydrating but does so much more, in that it does help boost any other products you are using. I could feel a difference as soon as I applied it, and it also soothed my skin making it smoother and more even.
While it's not quite an overnight beauty lift in a bottle, it certainly does help boost and revitalize the skin. It's light, non-greasy or oily and is ideal for those who don't like heavy serums or ones that make their skin feel tight. This will probably also suit those who also don't like the feel of facial oils on their skin, but are looking for a product that will firm, hydrate and tighten the skin. Priced at £49 for a 30 ml bottle, you only need to use three pumps at night (cheeks, forehead, and neck) which should last you at least a month, and you'll notice and feel a difference as soon as you apply it.
L'Occitane also do discovery sets exclusively online that cost £20-22 in the Shea, Precious, and Aqua Réotier ranges that contain a deluxe sized Overnight Reset Serum with discovery sizes of a cleanser, toner, and moisturizer in each range in signature yellow cosmetics pouch. You can buy online here, and get complimentary gift wrapping on all orders too. Postage is free on orders over £35 (otherwise £3.95) or you can collect from stores for free.