I had high expectations of these products and I was not disappointed. I hope Aldi decides to keep these products in stock, as it would be a shame to have them as a one off special buy. Customers want consistency, and the security to know they can buy something that works and that suits them, after all once you find something you like, you remain loyal to it.
The Lacura Cuvée Royal Luminous Serum Concentrate, 50 ml (£7.99) is excellent value for an anti-aging serum. It comes in a measured pump dispenser with delicate gold flakes. The serum itself is quite dense, and a little more concentrated than others on the market. The top does unscrew, so if a gold flake gets trapped in the pump mechanism, just remove it and clear the pump, which can get clogged from time to time. The results after a few days surprised me, as the skin felt smoother and softer and that was before using any moisturizer.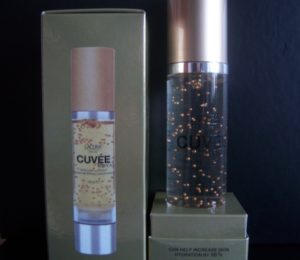 One tip I can pass on is if you have fragile or dry skin, the serum may drag due to the heavier consistency. The best way to apply it is to puff out your cheeks, then apply to the cheekbone closest to the nose in an outward circle. As the serum is quite heavy, it takes a while to absorb into the skin, so be patient and don't apply moisturizer until 10-15 minutes later once you have applied the serum. I've stocked up on a couple of bottles of this serum, just in case. Rating 4.5/5
I tried the Lacura Cuvée Royal Intensive 24HR Cream Mousse, 50 ml (£7.99), which is very rich, and quite a heavy cream. It comes with a spatula, and a small amount is needed as it concentrated. This is more suited to dry skin, otherwise it may feel a little heavy and greasy, and it's a good idea to warm this product up with the fingertips before applying. Rating 3/5
My star product is the Lacura Cuvée Royal Neck & Décolleté Mousse (£7.99), which can be used as a daily moisturizer, as well as for the neck and décolleté. The mousse absorbs quickly into the skin, leaving it feeling smoother straight away. The texture is light, and a handy spatula is included to ensure the correct amount of the product to use. Used in conjunction with the serum, it results in a skin that glows and looks and feels smoother. You can't really ask for more. Rating 5/5
The gold and bronze packaging looks luxurious, although the jars at first seem a little fiddly, it's to ensure the product is protected from the atmosphere as soon as it is opened. These are products worth investing in to use with your current regimen, and hopefully Aldi will make them part of their regular skincare range.
©2016. Beauty Super Spy.