During Black Friday, I got an offer from Evolve Organic Beauty and it encouraged me to try some products that hadn't been on my radar. I'm not a fan of oils, face or body in case they leave an uncomfortable residue, so it was only when I read a customer's review that it convinced me to try the Skin Savior Body Oil. Yes, I read reviews and I can tell the difference between one that a journalist or blogger that may have been encouraged to review, and a genuine one from a customer who can relay real experiences. I toyed with whether buying the travel size or the full size, and in the end I bought the full sized as I have a friend who loves body oils and I knew I could gift it to her if it didn't work out.
The Skin Saviour Body Oil contains rosehips (good for scars), baobab oil that nourishes, and mandarin oil, which helps to prevent stretch marks. A 100 ml bottle costs £20, or a 30 ml is £10, plus it's 99.6% organic, and 100% natural. The glass bottle comes with a separate pump dispenser, which makes it easy to apply, while the glass bottle is eco-friendly and helps preserve the natural ingredients for longer.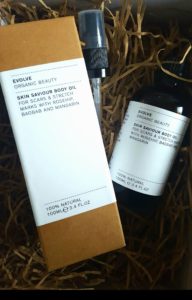 Rating and verdict
5/5
[yasr_overall_rating]
This is the best body product I have used (to date) and I've tried many, and some very expensive ones. It impressed me immediately as it really doesn't leave a residue and it absorbs into the skin quickly, and makes it feel smoother and firmer after the first application. The smell is light and fresh and usually when I apply any body product, I always like to wash my hands afterwards because I don't like any residue. I didn't need to do that after using the Skin Saviour Body Oil, plus there was no greasy feeling. Often you have to wait before getting dressed after applying any body products or you get that uncomfortable clingy feel for a while. Good news, with this product you can get dressed without that clingy feel almost immediately, and that is impressive.
I would recommend this oil for everyone as you don't need to have scars or stretch marks to use the oil. I have some old chicken pox scars from childhood, and they felt smoother after using the oil, and I've tried just about everything. Using the oil can also help prevent stretch marks as well, and moisturizes as intensively as a body cream without feeling heavy and is ideal for those with dry skin. I echo the words of another customer in that this oil is an investment and don't hesitate in buying it. Even my hands afterwards felt silky smooth without being greasy!
It takes a lot to impress me, and I have to admit I was not expecting the oil to this good, mainly because I've had such poor experiences with body oils and gels in the past. This is an excellent find, and a product I will be buying again.
You can buy online directly at https://www.evolvebeauty.co.uk/ where there is free shipping on all orders until Christmas. Each order also contains three free samples in tubs. Look out for my upcoming reviews on products in the range that have impressed me including the Gentle Cleansing Melt, Radiance Face Mask, and The Miracle Facial Oil, and Hyaluronic Serum 200.