Drunk Elephant, a skincare company based in the USA is being launched in the UK on 3 October, so what is the fuss and buzz all about? The company was founded by Tiffany Masterson in 2012, when she found she was reacting to various products. She decided to create a range without what she calls the 'Suspicious 6′ ingredients that are a common cause of reactions; Essential Oils, Drying Alcohols, Silicones, Chemical Screens, Fragrance/Dyes and SLS (Sodium Lauryl Sulfate which creates the lather in foaming products).
Drunk Elephant products are fragrance-free and if there is a smell, it will be a slight hint of natural Marula oil, Zinc Oxide, Thermal Mud, or Fruit Enzymes according to their website. The philosophy of the brand is to 'reset' and 'rebalance' the skin, and is suitable for everyone, especially those with sensitive skin.
While Masterson doesn't believe in skin types, (skin is skin) that's all well and good if you know what your skin needs and how it will react. Many people don't understand that dehydration doesn't actually mean the skin is dry (dry is flaky), but one that lacks water, and that oily skin can get dehydrated. I do think that some of the younger beauty addicts buy what is trendy rather than what is suitable for the skin; for example, if you use a serum that is too active, then your skin will react, but that's marketing for you. Most of the skin damage we see today has been done through sun damage, chemical peels, and the over use of AHAs or simply because people don't know how to use then properly.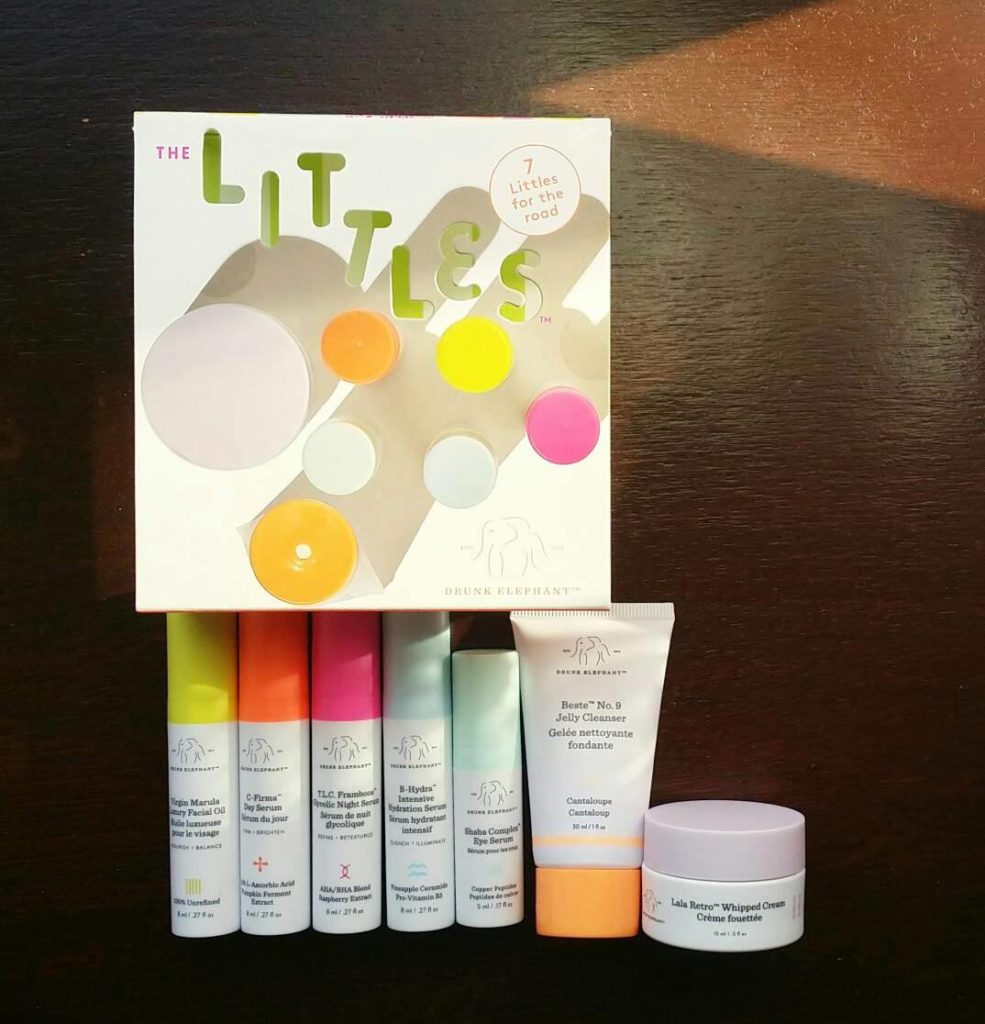 Drunk Elephant categorizes their products as follows, and recommend one product from each:
Balanced cleanse
Active prevention and correction
Physical protection (only sold in the USA and Canada)
Antioxidant rich moisture
Pure water based hydration
Chemical exfoliation
I was sent *'The Littles' to test and review, and yes I was excited by the hype. The set contains seven products that can help reset the skin, and in their contemporary, bright, and fun loving packaging, complete with slogans that are easy to identify with (Out of Office, Rise + Glow) you can see how this new skincare brand and philosophy can appeal to those who want ethical and natural skincare that works. It actually can seem overwhelming, and even confusing at first glance with so many products and you wonder what to use and when. I was surprised to see so many similar products, and expected to see a mask and a exfoliator at least if it was to 'reset' the skin. I tested the products according to the instructions at first, and then adapted the products to my own routine. You can buy Drunk Elephant from SpaceNK from 3 October, and The Littles retails at £90.
Rating and verdict
The concept (I believe) is for people to use the products that they need, and so you won't need all of them. However, DE do warn if you use other products not in the range, they may affect the performance of the DE products you are using. In my sales days, I was told to use this line too, called a synergy effect, whereby you can't guarantee the effectiveness of products if you don't use the whole range, because some ingredients may counter effect the performance of a particular active ingredient. Is it a marketing technique, or can choosing to use a non DE cleanser make that much of a difference to the DE serum you are using? As cleansers are on and off within seconds and don't penetrate into the skin, it is doubtful it will make a difference to the performance of a product that is absorbed into the skin.
Here are my personal and honest findings after using the products for a week;
Beste  No. 9 Jelly Cleanser
2/5
I find cleansers are always a good indication of how good a skincare range is, and this is the first product I tried. It's formulated to a pH of 5.9 (skin is usually about 5.5) and you simply add water and lather up. They also recommend skipping a morning cleanse if you cleansed the night before (why wouldn't you, as going to bed in with dirty skin is asking for spots!). I disagree with this, as at night the face and body does sweat. If you live in a humid place, the idea of applying makeup on an unwashed face the next morning doesn't bear thinking about. In short, it's like putting on clean clothes after a running a marathon and not taking a shower; not a good idea.
The cleanser is supposed to remove makeup, oil, and daily grime, and you need a generous amount (about a ten pence size) and then work pretty hard to lather it up with warm water. It's quite a weak foam and as a result you need to work quickly or it disappears within seconds. I tested it one evening where I wore no makeup but had been traveling all day, and I followed it with my toner test. This is where I use a cotton pad with toner to see how well the cleanser performed, and ideally there should be zero grime.
This cleanser failed the test, and I had to use not one, but two cotton pads to make sure no grime was left. I tried it again over several mornings where really there should be very little grime if any, and again, the toner test failed, where there was more than surface grime, and I hadn't worn makeup the day before, and had exfoliated with a mask the night before so my skin was squeaky clean. I tried it again one evening when I had worn no makeup and had been in the house all day. The toner test still revealed grime, so this cleanser doesn't cleanse that well, and it also left my skin a little tight on the cheeks. This is part of the balanced cleanse sub-category and a 150 ml tube costs $34 (about £25).
C-Firma™ Day Serum
4.5/5
Part of the active prevention and correction sub-category; this is a hard working and active serum. Vitamin C does so much for the skin, but it contains 15%  pure L-ascorbic acid which is unstable, therefore you should use it while it is fresh. This serum does leave a film on the face and doesn't budge, and at first it feels strange, but that's because it remains active on the skin for up to 72 hours and can't be rubbed or washed off.
This serum helps with photo-aging and pigmentation, plus it protects the skin as well. Use daily after a toner or softening tonic, and as it doesn't spread that easily be careful not to pull the skin when applying. A 30 ml bottle costs $80 (about £60).
B-Hydra™ Intensive Hydration Serum
4/5
This comes under sub-category five; pure water based hydration, and can be used either day or night and in conjunction with other DE serums or creams. Pro-vitamin B5 is said to work well with Vitamin C and therefore, it is suggested it to mix it with the C-Firma™ Day Serum.
It's light and absorbs into the skin quickly, and boosts hydration. It contains several fruit extracts (pineapple, watermelon, apple, and barberry) so do be careful if you are allergic to any of those fruits to be on the safe side, or do a patch test first.
A pleasant product to use, and is like a light moisturizer, and so you may not need to use a cream or moisturizer when using this product. A 50ml bottle costs $52 (about £40).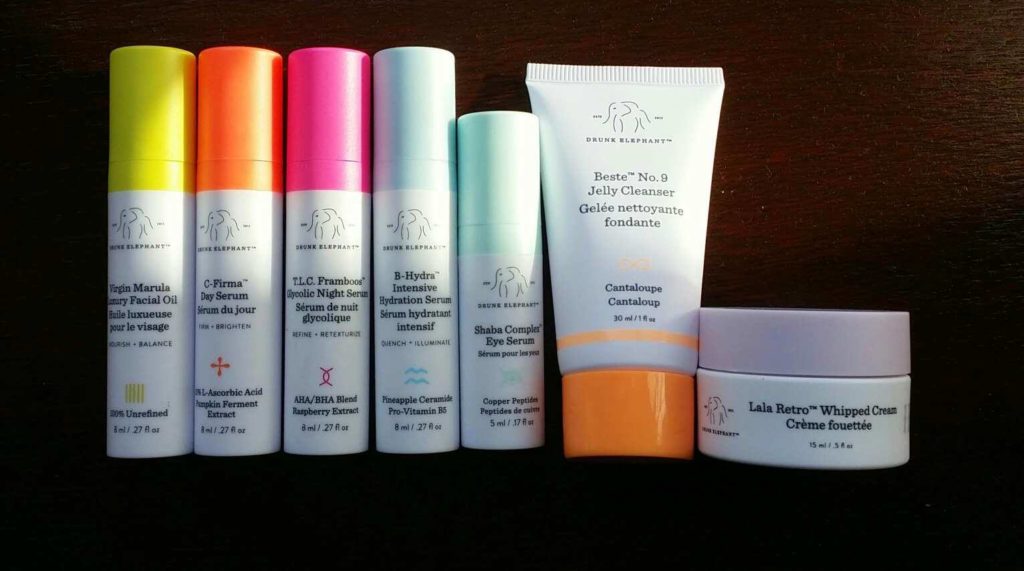 T.L.C. Framboos™ Glycolic Night Serum
4/5
This product is in the chemical exfoliation category, and to be honest I'm not a fan of glycolic serum. The gel serum is a combination of AHA/BHA that helps to resurface dull or congested skin cells. It actually smells quite nice and is light, and it is recommended to use it every other night and alternate with the Virgin Marula Luxury Facial Oil, and to mix it with the serum as well. This seems a bit of an overload on the face for me, and would recommend one or the other as you are simply applying too many products.
As with all AHA and glycolic acid products you must use a SPF 30+ (50 is what I recommend) each day if using this product, because a chemical exfoliator may also dissolve the acid mantle, and leaves the skin unprotected against the suns rays, which leads to photosensitivity.
This product should only be used in the evening and on alternate evenings. Tingling and sensitivity may occur, and you should discontinue using the product if irritation occurs.
I liked the product as it felt fine on my skin, but I would not buy it as I find the skin can get sensitized when using chemical exfoliants. Although DE say they believe this is caused by the use of alcohol and other nasties in other products, I'm not sure that has been proven. Glycolic acid dissolves dead skin cells but by doing so it may also dissolves the acid mantle which protects the skin, which is why one must use these products with care.  Manual exfoliators are more efficient and safer, especially ones that use enzyme action as they only dissolve on the surface and therefore are less likely to cause reactions. A 30 ml bottle costs $90 (about £70).
Shaba Complex™ Eye Serum
2/5
This is an eye serum packed with antioxidants, and vitamins. The texture is very light, and it aims to hydrate and smooth the eye area. I used this both morning and night and it does absorb very quickly, but I felt very little difference and saw no change at all.
To me, this seems to be a very basic eye serum, and after using it one night I didn't feel it was enough and applied one of my regular eye care products over it. It makes quite a lot of claims about 'diminishing the appearance of fine lines' and 'helping to fade age spots' and I feel they sound too good to be true. I don't have many lines around my eye area, but after using the product I didn't feel that it hydrated the skin sufficiently. I think there are much better products on the market for a fraction of the price as this retails at $60 (about £45) for 15ml.
Lala Retro™ Whipped Cream
4.2/5
This cream can be used day and night over any of the serums and is part of the antioxidant-rich moisture sub-category. It has a souffle light texture and melts into the skin. It contains six African oils, green tea, and plantain which hydrates and protects the skin.
Formulated at pH5.5 it's gentle and is good for those who don't like the feel of oil or creams on their face. Billed as a rescue cream, I don't think it's quite that as the effect doesn't last all day and you have to be fairly generous with the quantity used. It's one of my favorite products out of the ones I have tested, but essentially it's a basic nice moisturizer that absorbs into the skin and doesn't leave an uncomfortable residue. A 50ml jar costs $60 (about £45).
Virgin Marula Luxury Facial Oil
2.5/5
I'm not a fan of facial oils, and so I tried this one reluctantly. It is very rich, and it doesn't absorb that quickly into the skin and so there is a slight residue. It took a couple of hours in the evening before it had completely absorbed. For those who love facial oils and who have dry skin, they may like this, but I felt it was too heavy for my skin. A 15 ml bottle costs $40 (about £30).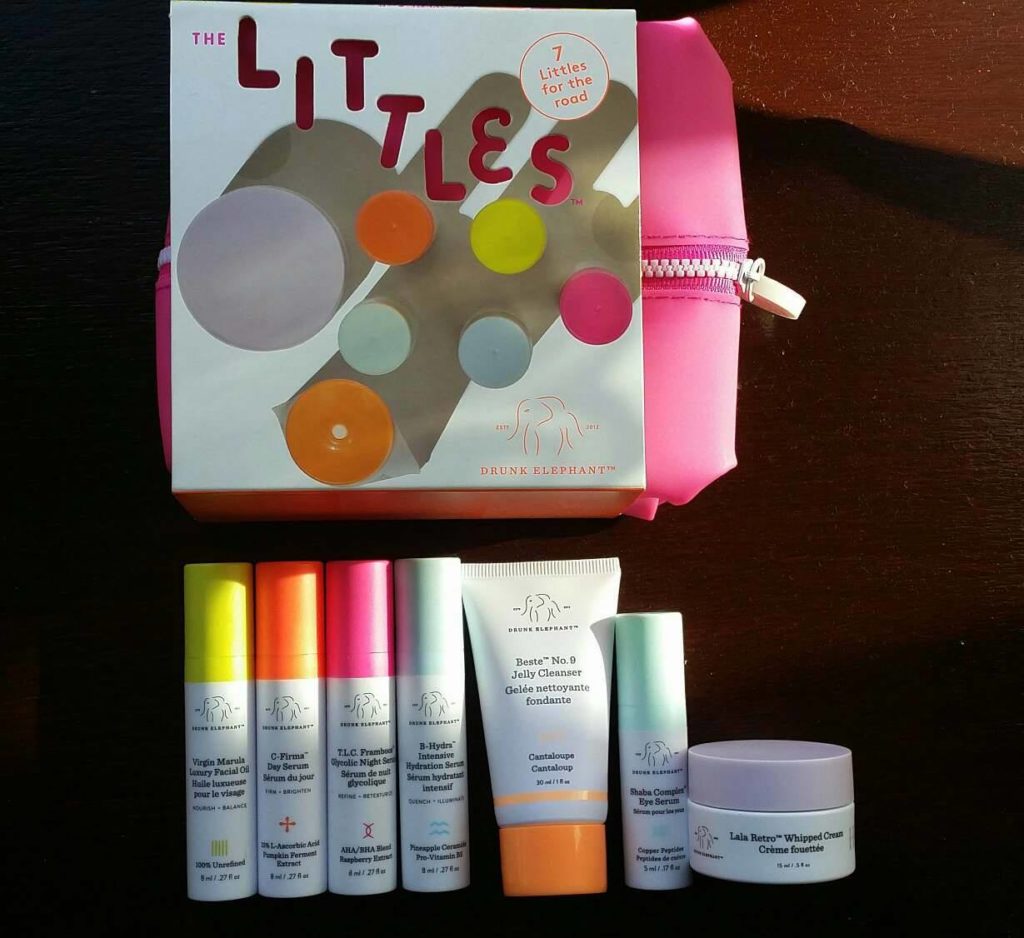 Overall verdict
Drunk Elephant has a different skin care philosophy from other companies, and recommends taking a clean break and only to use DE products for the most effective results. What is noticeable is that there is only one mask, and a chemical exfoliator (so far), and no toner in the range. I personally don't like to use resurfacing masks or chemical exfoliators and so as a range DE offers little choice.
Some of the advice seems to be based on personal beliefs rather than scientifically based facts such as skipping a morning cleanse. It's well known that when you sleep, the body secretes sebum, sweat and toxins as it regenerates, and so yes, as far as I am concerned you should never skip a morning cleanse, because applying expensive serums, creams and makeup on dirty skin is wasteful and counter productive.
For those who have sensitive skin and allergies, then it maybe worth trying the products to 'reset' the skin, but for those who don't have any skin issues is Drunk Elephant worth trying? Maybe the odd product is worth adding to a routine such as the B-Hydra™ Intensive Hydration Serum or  the C-Firma™ Day Serum, of which I liked and would consider buying.
I tested these products without looking at the prices, and having seen them I'm not convinced they are value for money given the results. They work, but they aren't anything spectacular or give that wow effect. The cleanser and eye serum were disappointing as they really did a mediocre job (and are priced the same as high end premium brands), and the whipped cream was lovely, but at that price you can get similar products for less.
As for a skincare routine and system, it seems overly complicated with the suggestion of pairing this serum with this cream or oil, and I've never been a fan of day and night products, as having separate ones costs more and the skin doesn't actually change overnight as in when it hits midnight it will change! That said, I don't have skin that needs to be reset, and I just need products to help protect and prevent, and everyone needs a bit of a hydration boost every now and then.
I'm not sure Drunk Elephant is for everyone, and maybe they need to accept that the products don't work on everyone having read some of their responses on the reviews. In one case where people commented that the eye serum didn't hydrate enough (as I too experienced) they were told to mix it with some Lala whipped cream. Quite simply, some products work and are good, and others don't work as well and need to be improved as is the case with many brands and products. While there are many converts, I am not one although I think the set is a good buy, as it allows you to try the treatment products together and are excellent for a skin boost without having to buy full sized items.
*Sample sent for review.