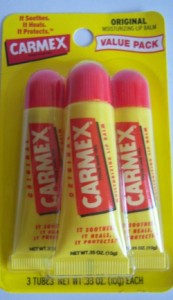 Beauty doesn't have to be expensive—the most important thing is to have a product that works, is good quality, and is affordable. Generations of women have faithfully used some of these products, and can be found in the beauty cases of professionals. Here are a few staples I always return to, even against the more expensive premium brands.
This now comes in a range of flavors (strawberry, cherry, lime twist, pomegranate, and vanilla) and in a stick, pot, or a tube. I prefer a tube as you can control the amount you apply. Some people struggle with the smell, and that it can tingle on the lips, but it stays put and also makes an excellent lip gloss over any lipstick. I've used this in minus temperatures (-32 c), and it has served me well, but requires warming up to get the balm out. It's been around since 1937 and the formula hasn't changed since.
Neutrogena Transparent Facial Cleansing Bar
The original orange facial cleansing bar; other companies have created their own versions, but this one stands the test of time and is still one of the best cleansers. It doesn't dry out the skin and foams gently. If the thought of soap puts you off, it's not soap. Each bar lasts about 6-8 weeks using it twice a day and is under $3. Some people say it makes the skin feel tight, but that isn't dryness, it's dehydration. Dryness is when it's flaky and if the skin feels tight after using cleansers, it's because there needs to be a softening or toning lotion used afterwards. A good bathroom cabinet staple, and the liquid version is as good and can last a couple of months.
The Body Shop Luxury Face Flannel
Once you use this, it will be hard to use a normal flannel again. The cloth dries hard to prevent bacteria from staying on it and removes all traces of dirt and oil. You can wash it in the machine, but do not tumble dry. Professionals use this as it doesn't scratch the skin, and is more hygienic to use and great for traveling too.
Hairdressers love this and it really works. For someone who has long thick hair that is always tangled, it makes my trips to the hairdresser less embarrassing when I have to apologize for my tangles that they have to sort out. These are easy to clean, and ergonomically shaped so it's easy to use. Also the bristle stimulate the scalp and because it's plastic the bristles don't break or shed.
This is a great shampoo that can clear the scalp and also remove any build up of products. If it's humid and your hair won't behave this will help, or of it's flyaway it can help tame it. On many occasions this has saved me and it's good to have on standby if nothing else seems to work.
Vaseline Intensive Care Healing Lotion
A multi-purpose lotion that can be used all over, including the face. It's gentle and soothing and if you're traveling light, you can use it for everything. You only need a small amount and it goes a long way. Take a tube with you as it doubles up as a hand cream and also as an after sun.
The little round pot has served many women over the years, and is available as a cream or powder version. They have a huge range of colors which remain true (they don't change) and last a long time. Invest in a good brush and the dome picks ups the right amount for each cheek. Besides that, the classic packaging makes it easy to find in your makeup bag and to carry around with you.
There are some items you trust and you won't stray from and this is one. On many an occasion this has saved my life when I used to work at award ceremonies (I was the girl handing them out on stage) and you have no time to fix your hair and you need to be confident that your product will hold. It doesn't leave a sticky residue and brushes out easily. I would always recommend a can in the house always and make sure you never run out.
© 2015. BeautySuperSpy. All Rights Reserved.