Pink Parcel is a monthly lifestyle box for women that includes a monthly supply of essentials (your choice of items), along with a selection of beauty, and lifestyle items. Each box costs £12.99 including shipping, unless you are a previous subscriber where the price was fixed at £10.50 a few months ago.
I haven't had a Pink Parcel in a while, so there have been a few changes beside the price increase. The little handy drawstring bags are made from a thicker and more durable fabric, there is an updated website, and a revamped shopping page where you can buy items that you've tried, plus the occasional limited edition box or bag. The box does offer excellent value, as there are usually a few full sized items in each box. This is what the December box has on offer and is available until the end of the month or while stocks last:
So Susan Waterproof Eye Liner ~ Full sized @ £18.99. From an American company that has made it's way over to the UK, that offers young and PETA certified cosmetics.
The Beauty Crop ~ Full sized @ £8 Eye Trio. A fairly new company that produces cosmetics that uses natural ingredients wherever possible.
Sanatio Naturelis Orange Aromatherapy Oil ~ Full sized @ £15. A lovely essential oil to use in the bath or to mix with your moisturizer. NOTE: Never use essential oils undiluted in case of a reaction unless it's for a particular ailment.
POM Secret Santa Snowflake Earrings ~ Full sized @ £8.
Maggie Anne Nail Polish ~ Full sized @ £10.50, one of two shades. A company that specializes in vegan nail polishes.
English Laundry Signature Purse Spray ~ 10 ml@ £16.
Fudge Kitchen Orange Caramel Fudge piece, and Whittard Earl Grey Tea Sachet.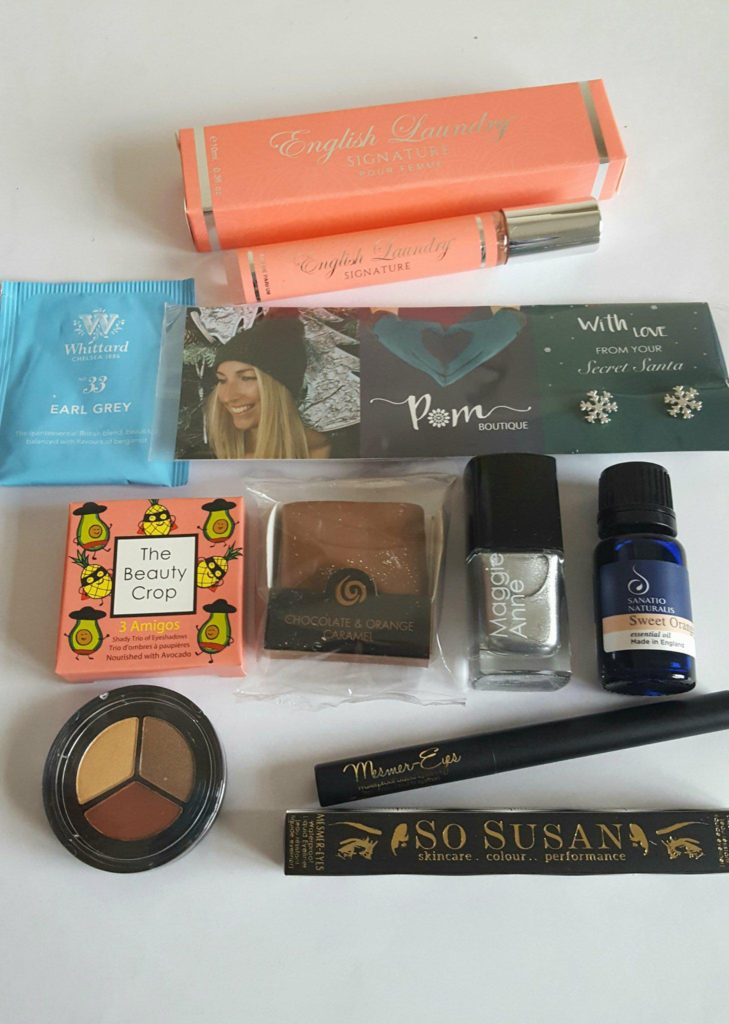 Rating and verdict
4.2/5
[yasr_overall_rating]
This month's box has a retail value of over £70, which makes it excellent value at £12.99. There is a good assortment of products that include makeup and fragrance items, as well as the usual chocolate treat and tea offerings. Although I won't use everything, the products are easy to regift and for someone who hasn't got a huge beauty stash, it's a great way to build one up.
The items I was most impressed with are the Maggie Anne Nail Polish (although I would have liked the gold shade), and the Sanatio Naturelis Orange Aromatherapy Oil as they were both full sized items that have introduced me to their brands that have some excellent products on offer. As a chocoholic the chocolate fudge lasted less than a minute in my hands, and it was delicious. Pink Parcel introduced me to Willie's Cacao earlier this year and I've indulged in a few bars since I discovered it, and this may well happen with the Fudge Kitchen too.The fragrance isn't quite me, but I have a friend who has her eye on it, and one of my besties is a tea addict so tea bags never go to waste either.
As a subscription box, it's one of the more flexible ones on the market where you can choose the date you receive the box and you can cancel at anytime before the next box is due, which is billed the first day of each month. Overall, this month had a good varied selection with five full sized items that caters for all ages and tastes, although there was no skincare or bodycare items this month. You can subscribe to Pink Parcel here (https://www.pinkparcel.co.uk), plus each box is designed to fit through the letterbox, which makes delivery much faster and simpler than waiting for parcels or having to trek to the Post Office to collect them.
Save
Save