The June Love Lula beauty box has an interesting selection of items, with skincare, body care, and a makeup item included this month. It's fast becoming a great value beauty box that costs £12.50 per month (including UK delivery) that you can cancel at anytime up to the last day of the preceding month. Many other beauty boxes are hovering around the £15-20 mark, which can be a little high if the products aren't suitable for you or are small sample sizes, so this one represents excellent value, as often there are full sized items in the box. Each month varies, and you can expect between three to six items, which can be full, travel or sample sizes. This month contained the following:
John Masters Lavender Rose Geranium & Ylang Ylang Soap ~ Travel size 42 g @£3.00
Madara Daily Defence Ultra Rich Balm ~ Full size 60 ml @ £15.00
Bellapierre Kiss Proof Lip Crème in Antique Pink ~ Full size @ £20.00
Balm Balm Hibiscus Face Mask and Muslin Cloth ~ Sample size 5 g and full size muslin cloth, approximately £5.00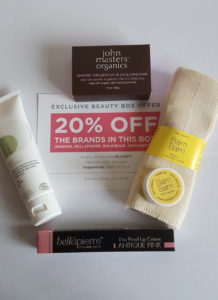 Rating and verdict
4.2/5
[yasr_overall_rating]
Despite being fewer items in the box this month I did like the selection because they were all good sizes and useful for all ages and skin types. The John Masters soap smells wonderful in that it's not too heady, but you can make out the subtle tones of lavender and rose in it. I prefer smaller soap bars because they are less messy to use, so this was an ideal size. Madara is becoming a bit of a favorite of mine after a lukewarm start due to the rather strong smell in some of their products. The daily defence balm is quite the opposite where is smells heavenly of fruity cloudberries, it's also not as heavy as you would imagine a balm to be. This absorbs into the skin quickly and forms a hydrating and protective layer over the skin, and is my favorite item this month.
I've used Bellapierre before and I do love the pigmentation and texture in their products. This shade however, isn't one I would use, but as in introduction to the brand it's a neutral shade that would suit most people. Finally I tried the Balm Balm Hibiscus Mask, which is slightly different as it's a powder that you have to mix with water to create a paste and then apply and rinse off once it has dried. The pot contained enough for one use and I used half just to try it out. I'll be honest in that it was a little messy and time consuming to try and mix the mask to the right consistency and then when it came to removing it, it was also a little more hard work you have to ensure there are no small particles left on the face or in the hair line. It wasn't for me, and the muslin cloth is not as soft as other ones on the market, but is a good cleansing cloth for exfoliating products.
With two full sized items, a generous travel size, and a handy muslin cloth I was happy with this box. In addition there is 20% off the featured brands for the month and free shipping if your order is over £10. You can order the July box by 30 June here, plus Love Lula have begun to offer one off past boxes that are great value. Check the website for details as these are limited and are available while stocks last only.