Love Me Beauty, has revamped its website in the last couple of months, but what changes have they actually made? The site is a little easier to navigate, they have decided to keep all previous months items in the shop until they sell out (rather than bring them back when the shop was a little bare), plus all memberships renew on the same day, so there is no more having to wait for credits to renew and not having much choice if all the best items had gone. To be honest they could have done these things from the start and made life easier for themselves and the customer, but at least they have listened to the feedback
In addition, currently the date for new items to be added online is the 2nd of each month, rather than the previous system which was as and when!  The new items this month included a bareminerals serum sample, Kat Von D fragrance and lipstick special sizes, and makeup items from Buxom. In addition there currently is a selection of ecotools brushes, Nails Inc, and Caudalie items to choose from as well.
Rating and verdict
3/5
[yasr_overall_rating]
I can't say the new additions were particularly exciting, and I opted instead for some Caudalie basics (moisturizer and eye cream) and a handy brush for my 60 credits (20 credits each). I chose my items on the 2nd August and was fortunate enough to be able to receive an extra free sample of bath oils from Aromatherapy Associates (there were only 120), and I was supposed to have received a bareminerals foundation sample, which didn't materialize with my order.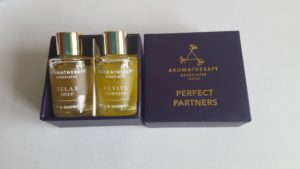 While my order arrived quickly (within a week of ordering), there is still lack of personal service that I can't help but feel would make a huge difference. You don't get dispatch emails, or an invoice included in the parcel, so once you've ordered you get a confirmation email and then just wait. The teaser/spoilers that are emailed each month for the following month are still annoying, and have not lived up to the hype. They just don't get me excited, and even when the items are revealed, there is no urge to rush and order. Each month I wait to be wowed, and that day just has never arrived.
Love Me Beauty is a monthly subscription service where you can choose your own beauty items via a credit system. The subscription allows you to choose what items you want, and for £10 (plus £3.95 postage) you get 60 credits to spend in the shop. Items vary from 5 credits to 30 credits, and if your selected items are over 60 credits, you can buy additional credits (20 credits for £5). Other membership options include a 3 month subscription where each box is £9 plus postage, and a 6 month option where the box is £8 a month plus postage. All subscription are auto-renewed, so if you wish to cancel don't forget to do it before the 1st of the month. Each selection comes in a useful Love Me Beauty cosmetics bag, rather than a box. The bag this month was excellent; a good size in a super soft soft fabric and a waterproof backing, and in a trendy design.
The changes made have made the subscription service a little easier to use and fairer, but there is still room for improvement. The choice of items is still limited, and if you don't use all 60 credits you can't save them and will lose them. I believe in honest marketing, and the emails they send are over hyped and exaggerated, but as most people now know this, very few are enticed or swayed. I think most of us beauty fans would just appreciate honesty, and less of the click and bait emails. No one likes them, and they go straight to the trash. What customers want are promotions, and not just a referral system (that's a given), but something that offers genuine value. That is what Love Me Beauty lacks, no promotions or exclusives and that is what they need to do to stand out from other beauty subscription services.